Andrea and Colin from Blackburn adore their team of racing huskies; they are an integral part of their family. Adam is an Alaskan Malamute, he is tall and thick-set, and he is their largest and most powerful dog.
Adam is only 2 years old, but already he's spent much of his life in pain. While the rest of the five-strong husky pack are able to enjoy trips to the Forest of Dean to compete in wheeled-kart pulling competitions, Adam is barely able to stand because of knee arthritis, in spite of multiple previous surgeries.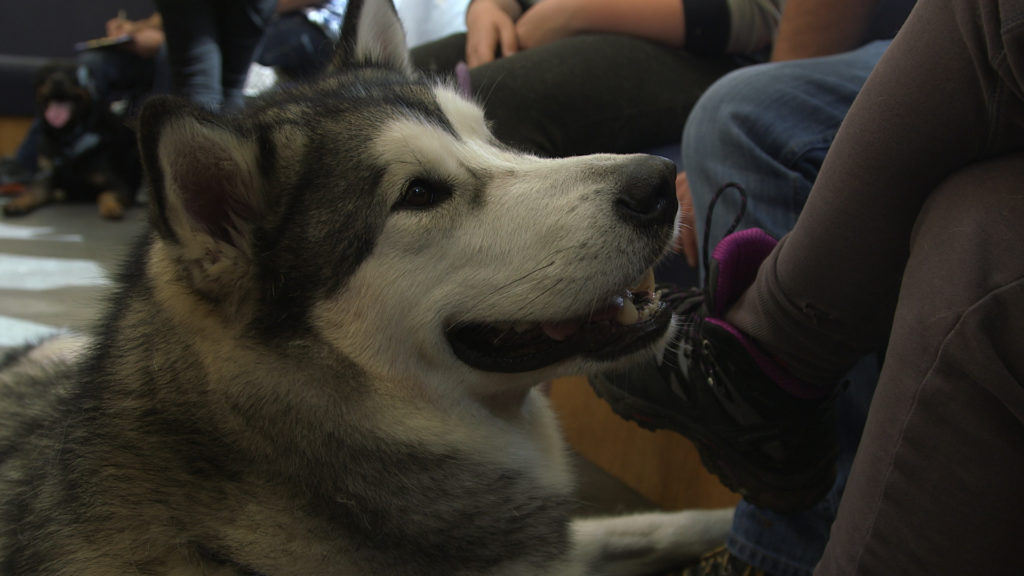 Andrea and Colin hate to see their young and energetic dog confined to short walks and hours of rest. Their dream is to have him pain free, to have fun and to let him run with the pack. But the reality is; without surgery he'll never have a quality of life.
This is highly specialist surgery and the family have made the long journey to Professor Noel Fitzpatrick at Fitzpatrick Referrals in Surrey. Noel explains to Andrea and Colin that unfortunately Adam is affected by end-stage disease of both of his knee joints. He will need to have two separate operations to replace both knee joints with custom-made artificial joints. The joints are one of Noel's inventions with a team of engineers in Fitzbionics. Each joint constitutes a metallic part that mirrors the shape and architecture of the bottom of the thigh bone (femur) and the top of the shin bone (tibia). The metal components are linked together using a special pivoting hinge mechanism made out of a metal axel on a post and lined with plastic called polyethylene. This type of knee replacement is used when most of the knee ligaments are badly damaged and have given way, such that a conventional knee replacement of just metal on a plastic tray isn't suitable because of the potential for dislocation.
During the consultation Noel emphasises that to insert the artificial knee, he must first remove Adam's entire diseased knee.  Once the diseased knee is removed it will be challenging to ensure that the artificial knee is placed perfectly straight as Noel will have few landmarks to reference.  The success of this surgery will heavily rely on Noels own judgement and surgical experience.
For Andrea and Colin there is no question, they have to give Adam a shot. They put their faith in Noel and say goodbye to Adam as he goes in for his first surgery.
Noel operates on the first knee and everything goes according to plan. Post-operative images show that the alignment of the new knee is good, and after a few days care at the practice Adam is able to go home to continue his recovery until the next operation, scheduled in 6 weeks' time.
Just two weeks later however, Andrea and Colin drive overnight to get Adam back to Noel, they can see that Adam is in pain as the second knee begins to fail even more quickly.
The family have a difficult dilemma: wait for the first knee to recover fully and risk losing everything if the second knee fails, or go ahead and operate on the second knee knowing that Adam may well struggle to recover from two knee operations in quick succession.
After consideration, Andrea and Colin decide that his best chance is to have the operation sooner rather than later, and Noel takes Adam through to operate on the second knee.
Thanks to the dedication of the engineering and surgical team, once again the operation is a success. The whole Fitzpatrick team work around the clock and begin Adam's recovery and rehabilitation.  Within days the team see Adam bravely stand on four legs once more, however it is just the beginning, Adam still has a way to go.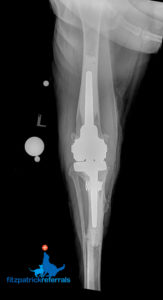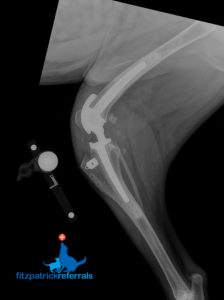 After a few weeks Andrea and Colin were able to take Adam home to continue his recovery, and every day they see him getting better. Genetics hadn't been kind to Adam, but his family never gave up hope that it was possible that he could live a happy, pain free life. He continues to improve and hopefully soon can take his place in the pack where he rightfully belongs. The Christmas Dogs will get to pull their sled after all this Christmas, with Adam well on the road to recovery beside them.