Arlo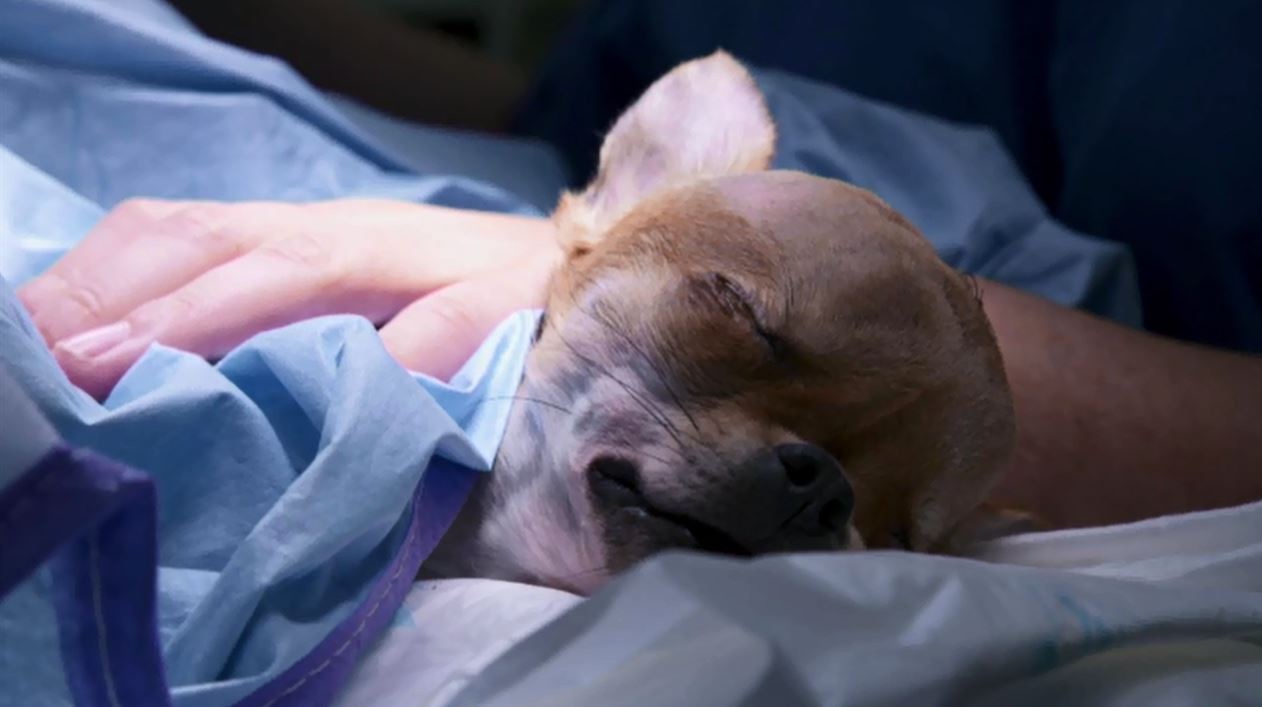 "They have a better life than a lot of humans do to be honest…" Jason
Age: 7 months old
Breed: Chihuahua
His Family: Arlo is one of the youngest members of Gosia and Jason's family of Chihuahuas. They do not have any children and Arlo is like one of their own. Gosia adores them all and dotes on them.
The Problem: From birth they knew something was not right with Arlo, and as the weeks went by the problem became more apparent. Arlo's head was much bigger than his siblings. Trips to the vet diagnosed Arlo with Hydrocephalus – a condition that causes a build-up of fluid in the brain. The condition was worsening, so the family were referred to Fitzpatricks where they met with Senior Neurosurgeon, Dr. Jeremy Rose who offered advanced brain surgery to manage the condition. If he did not have the treatment, Arlo would only deteriorate.
Treatment: The surgery Jeremy had to do was highly complex, and due to Arlo's size, the anaesthetic alone presented a great challenge.
First an incision was made through the skin to the skull. Next, Jeremy carefully drills three tiny holes; one to insert the tube into the fluid in his brain, and the others to clip the tube securely in place. This tube is connected to a valve in his neck, which will control the speed of fluid running under his skin and draining into his abdomen. The tube and valve will be a permanent fixture for the rest of Arlo's life, continually draining the fluid into his abdomen to be absorbed back into his body. It's a delicate procedure for any dog, let alone one as small as Arlo. Once the surgery was complete, Arlo went to the intensive care ward to recover with round the clock care. The next few hours were crucial.
Arlo was making steady progress, however, 48 hours after surgery, Jeremy was called immediately to assess Arlo, who had developed a dent in his head. The dent was appearing due to over shunting – too much fluid was being drained from the brain. With no time to lose, Arlo was taken straight back into theatre. Jeremy had to go back in and replace Arlo's valve with a higher pressure one to slow down the shunting of the fluid.
Outcome: Despite his size, Arlo proved he was tougher than he looked, and recovered steadily once more from his surgery. The Fitzpatrick nurses and ward teams provided essential meticulous care for the little dog, who had won many hearts during his stay. The day that Gosia came back to get him was one of the happiest of her life, and the pair were reunited once more.
Arlo

1 of 4

Series 10 - Episode 6: Arlo, Drummer & Sooty 4

2 of 4

Arlo waking up from his surgery

3 of 4

Arlo with Gosia

4 of 4