Ollie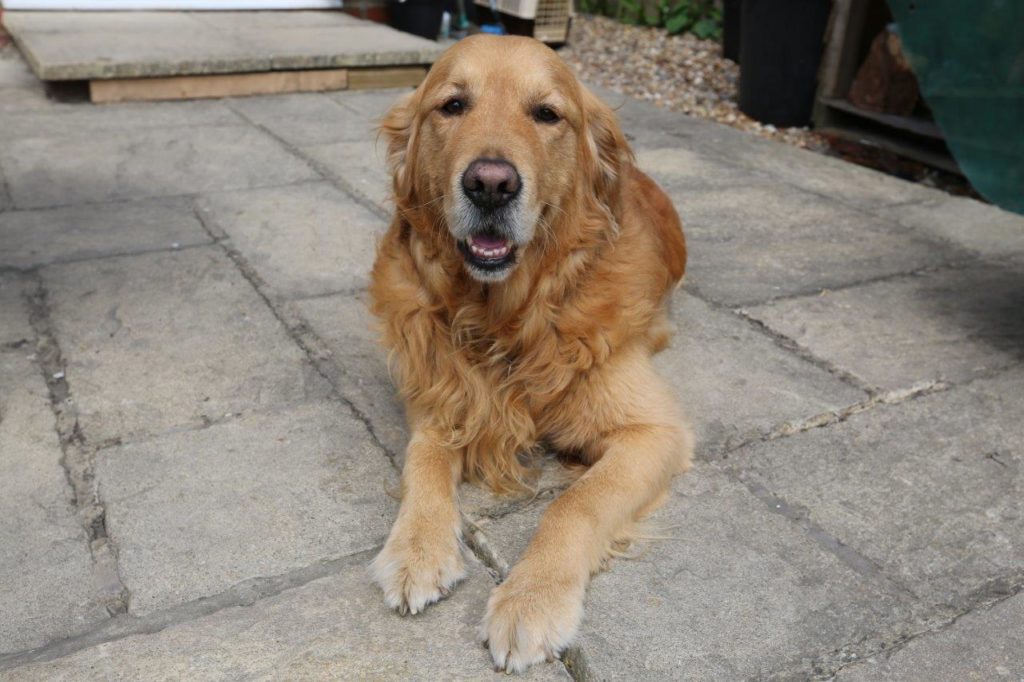 Age: 5 years old
Breed: Golden Retriever
Family: Carol and Martin are big animal lovers.  At home in Wiltshire, they care for a collection of pets but both of them would do anything for Ollie.
His Story: When Carol and Martin first found out about Ollie's cancer, they didn't know what to do. They were devastated.  Their vet explained to the family that they could amputate his leg off to stop the spread of cancer, but  Carol wanted to know what other options remained to him. The pair came to Fitzpatrick Referrals and Professor Noel Fitzpatrick to find out what else could be done for their special boy.
Treatment: Noel offered the couple amputation as well, but also discussed with them the option for limb salvage through removing the cancerous tissue and bone and replacing the missing foot with a bionic one. Noel showed the couple a 3D enhanced CT scan of Ollies foot that showed the bone and soft tissue around the bone and the blood vessels running into the tumour, a soft tissue sarcoma. Carol wanted Noel to try, so asked him to go ahead with the surgery. Noel planned to cut Ollie's tibia bone above the tumour in the ankle, to remove the cancerous section. Then fix the custom made 3-D printed implant into the tibia and a bionic foot screwed onto the peg.
Outcome: 11 days after Ollie had surgery he was ready to try walking on his new foot and the team were thrilled and how well he took to it. He was able to go home and continue his recovery. Two months later he returned for a check up on his bionic foot and to make sure the cancer hasn't returned. On examining the bionic implant, Noel was pleased, he was doing remarkably well and acting like it was no different than a normal foot. However, when the team took Ollie through for scans Noel found a lump, a local recurrence of the tumour. It was a massive blow for the entire team and even more so for Ollie's family, who were devastated by the news.
Ollie was affected by a cancer called an intermediate grade soft tissue sarcoma   Whilst we had clean margins at the time we chopped the tumour off, unfortunately sometimes this kind of cancer can skip to another area of the body we couldn't predict and that's devastatingly what happened – Professor Noel Fitzpatrick
It left the family with very few options, all they could do was amputate the leg. But as he bounced back on his bionic foot, he bounced back on three.
We're over the moon with him. I'm happy – I know it's a bit of a shame with the leg but he's still hereand we'll enjoy him for as long as we got him – Carol
On four legs or three, this boy just won't let anything interrupt his happiness. Ollie is an inspiration for his joy and resilience. Though we couldn't save his leg because biology had other ideas, he has an incredible quality of life on three, and we all hope he continues to do so for as long as possible. Rock on Ollie.
Ollie PRESS (6)

1 of 4

Ollie PRESS (4)

2 of 4

3C1A2668

3 of 4

NF with Ollie

4 of 4