Dylan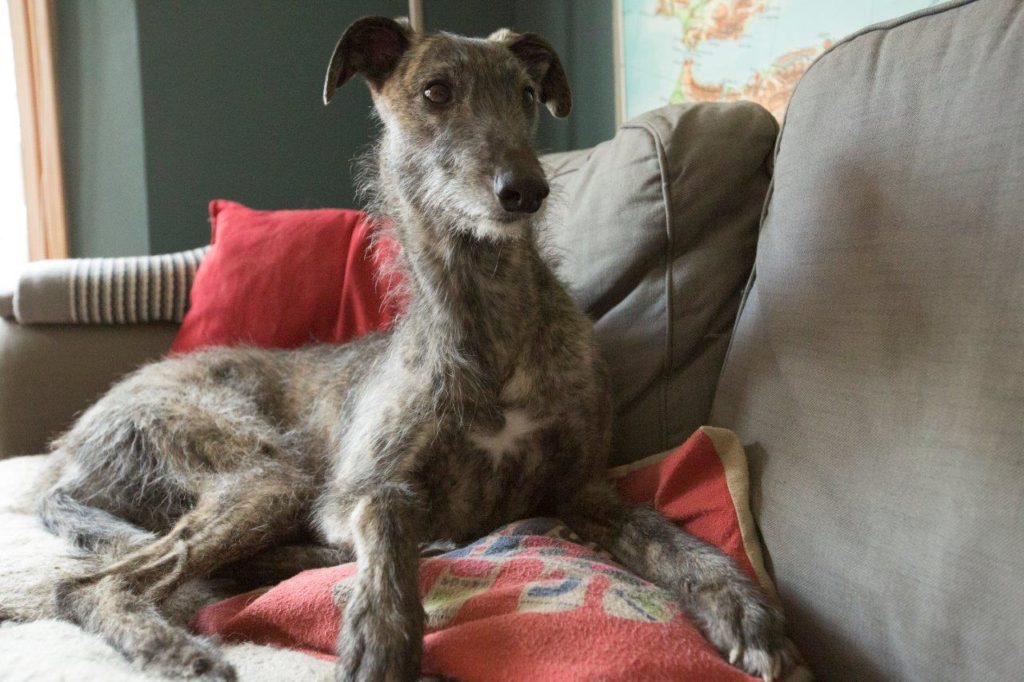 Age: Four-years-old
Breed: Lurcher
Family: Dylan lives with Jackie and Richard in Brighton with their two other rescue dogs. Jackie is very close to Dylan, having rescued him when he was very young.
His Story: Dylan was found abandoned when he was a puppy. Jackie took him in when a friend of a friend found him abandoned at just two weeks old. Over the last few months, Dylan has been struggling to put weight on his leg
It's very difficult to watch him now because he's gone from being such an energetic happy dog, to a dog that just struggles all the time.  He's just really unhappy – Jackie
So Jackie has been referred to Fitzpatrick Referrals and Senior Clinician Miguel Solano to see what options were available to him.
Treatment: Miguel examined Dylan and found that the ankle joint was extremely painful. Miguel explained that the cause of the pain may have started with a low degree sprain that recurs repeatedly and causes a degeneration of the joint. Miguel recommended that the joint be fused, which would result in Dylan having a pain free life and he could run, jump and play like he did before. The surgery is not without risk however, Lurchers, have thin skin and therefore when they swell up the skin can have problems with blood supply, and some portions of the skin can die which would hinder the successful outomce of the surgery. The family want to press on, to give Dylan the best chance.
In surgery, Miguel drills out the cartilage in all of the wrist joint bones. He then took some bone marrow from Dylan's shoulder and inserted it into the gaps in the joint.  Over the next few weeks, the bone marrow should fuse all of the bones in the joint solid. The metal plate could then be attached using 12 screws. It had been a straight-forward procedure, and Miguel was hoping it would give Dylan a whole new lease of life. He was then kept under observation to make sure that post-operative swelling didn't cause any further problems.
Outcome: Two days later Dylan was well enough to go home.  Richard and Jackie were ecstatic to be collecting him. Even better, his recovery went from good to great, and four months later Dylan no longer had to be separated from his brothers on a walk.
It's just lovely to see them out running, chasing the ball, playing with the sticks, everything, its great. This is definitely the best we could have hoped for. I'm not worried about him any more – Jackie
Every animal matters – so to see Dylan running around with his two brothers like he was born to do is a joy to see, especially to his family who would have done whatever was necessary and right for him, to give him the happy life he deserves.
Dylan PRESS (10)1

1 of 4

Dylan PRESS (12)

2 of 4

Dylan PRESS (1)

3 of 4

Dylan PRESS (4)1

4 of 4