Zola
Four-year-old Leonberger, Zola has been diagnosed with cancer in her front leg. Noel believes he can save the leg by removing the tumour and performing an operation he invented to replace the cancerous bone with metal.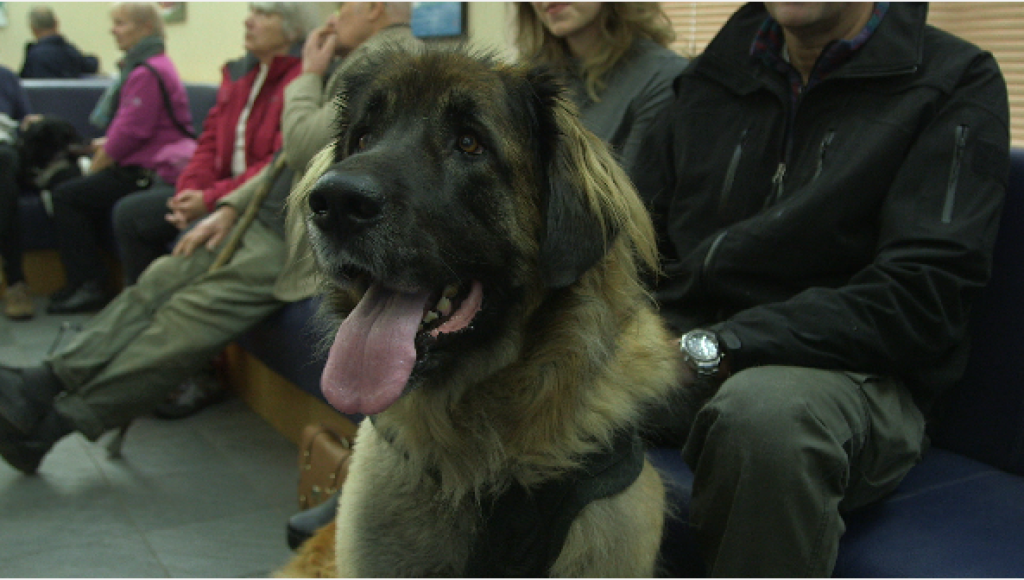 Leonberger Zola is a giant dog with a giant personality. She is a firm and much-loved member of the Prescott family. When they discovered a lump on her front leg, their world was turned upside down with the news that it was an aggressive bone tumour, called an Osteosarcoma.  Jill, Toni and John came to Fitzpatrick Referrals and Professor Noel Fitzpatrick in the hope of finding Zola a treatment that would give her more time.
Fitzpatrick Referrals is one of very few centres in the UK that offers an alternative to total limb amputation, with a metal implant, called an endoprosthesis, which replaces the affected cancerous bone with metal, meaning that the limb is spared. In order to give the family this option, it was important to make full investigations to see whether the cancer had already started to spread.  Noel made it clear that the tumour had very likely already started to spread at a microscopic, cellular level and that treatment would not cure her, but it would give them more time together.  If the family did nothing, they would only have had a few weeks before Zola's quality of life was severely impaired and the cancer started to spread to other bones, her thorax and her abdomen.  With this treatment, Zola may have the chance to live for up to a year or more if they were lucky.
It's incredibly difficult to know what to do when you've been told your animal friend has cancer. It can be absolutely devastating, it's always a balancing act between quality of life and quantity of life, and no matter how much people desperately want to prolong life, we have to always ask the question, 'Is it in the animal's best interest to continue, or is it just because you can't say goodbye?'
Following extensive discussions and consultations with Noel's oncology colleagues, Dr Kelvin Kow and Professor Nick Bacon, Noel gave the Prescott family the options. Jill, Toni and John decide that they want to give Zola more time and go for the endoprosthesis option.
In surgery, Noel makes two cuts in the bone 5cm above and below the tumour to try and make sure he has clear margins to remove all cancer. Once this was done he started work on the two-hour surgery to build the jigsaw of specially designed metal implants that would become Zola's new leg.
Zola recovered remarkably well and was able to go home a few days after surgery to spend precious time with her family.  Following a period of recovery at home and time to rebuild her strength, Zola would be given chemotherapy every three weeks and return to the practice for regular check-ups.
Four months later, following a course of chemotherapy, Zola returned with John and Toni to the practice for a routine check-up with Noel.  CT scans and radiographs would reveal how well new bone was growing into and around her implant and check for further spread of cancer.  The results are heartbreaking as Noel identifies a nodule of cancer in Zola's chest. The news is devastating to her family, but they always knew that it was only a matter of time and there was no way for anybody to predict how long that was.  The family now just have to continue to cherish each day with Zola and give her the best quality of life possible, knowing that they did everything possible for their much-loved friend.
DSC05890edit

1 of 3

Screen Shot 2017-03-15 at 12.58.12

2 of 3

Screen Shot 2017-03-15 at 12.51.00

3 of 3