Episode Details
Date
28th September 2017
Series
Series 10
---
Summary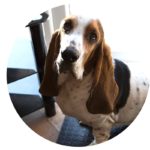 Barney
Mischievous and pampered young Basset Hound Barney is 'top dog' in Pat, and daughters Lyn and Michelle's home, especially since Pat's husband died last year.  Salmon and venison are some of his favourite treats.  But lately, Barney's been suffering from weakness in his back legs.  The girls bring him into Fitzpatricks where neurologist Claire Rusbridge identifies an issue with Barney's neck.  Further investigation reveals that vertebrae are crushing the cord, and Professor Noel Fitzpatrick needs to perform high-risk surgery using 3D printed implants, which aren't available anywhere else in the world. Pat and her daughters are devastated, but determined to get Barney back to full health – and back to the doggie ice creams!
Tank
Giant Mastiff Tank is brought in to see Noel by Rob and Janet. He's struggling to walk on both front legs, and missing out playing with the family's other dogs at home.  Noel discovers Tank is suffering from severe arthritis and needs radical surgery on both elbows.  But he also has problems with slipping knee caps. It's a labour of love looking after their beloved slobbering baby, nursing him through his operations and tending to his recovery; but Rob and Janet are prepared to do what it takes, with Janet even sleeping downstairs to keep Tank company for weeks on end.
---
Mouse
Mouse the Miniature Pincher comes to see surgical resident Padraig in this episode's tale of 'little and large'.  With plenty of attitude and bat-like ears, this family puppy has fractured his foot after jumping off a bed. Padraig faces a tricky operation on such a small patient, and has to use a specially-developed 'spider' technique to pin the tiny bones in his paws back together.
---